Restylane® is one of the two dermal filler products that we use at Chrysalis Rejuvenation Clinic. Like any facial filler, Restylane is a gel made from non-animal hyaluronic acid products used to replace naturally-occurring acid in connective and skin tissues. It is injected into the skin to "fill in" lines, folds, creases and lips, adding volume where natural tissues have begun to deplete.
Restylanye was the first hyaluronic acid filler to be approved by the United States Food & Drug Administration) FDA) for cosmetic injection. It contains Lidocaine, a local anesthetic that makes the injection very tolerable, if not pain free, in many areas.
At Chrysalis Rejuvenation Clinic, we use three different Restylane® products: Perlane®, Restylane®, and Restylane Fine Lines®. All may be used to:
Replace tissue volume that has been diminished by aging, sun damage, weight loss, etc.
Fill in facial lines and creases, such as nasolabial lines, marionette lines, globular lines, etc.
Fill in depressed scars and other cosmetic concerns due to loss of volume
Augment the chin
RESTYLANE BEFORE & AFTER PHOTO – VOLUME REPLACEMENT AROUND EYES, MOUTH AND NOSE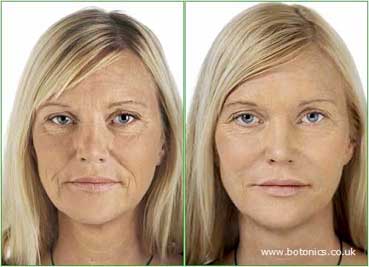 Restylane is commonly used in adjunct with Botox®, Thermage®, photo-rejuvenation or laser resurfacing (Fraxel or Smartxide CO2) to achieve the total look desired. We offer all of these services at the clinic.
Learn more at the Restylane website, or contact us for a no-charge consultation with Dr. Lalonde about our dermal filler services.